Sate DJONO
menu acrylic sate Djono desain dan cetak- finishing oleh Menu In Design. Karya 2020 ini dibuat sewaktu lagi pademi, tentunya fotonya dilakukan di studio @FotograferMakanan dengan prokes ketat sesuai anjuran pemerintah rekanan fotografer MID yang pada saat pandemi tetap full service. Desain menu dilakukan oleh tim desain menu kami yang pada saat itu WFO, alisa work from home.
Sate Djono sangat luar biasa tetap buka seperti biasa melayani para pelanggan setianya yang tetap memesan sate khas ini. Briefnya sangat singkat ingin membuat buku menu yang simpel dgn foto yang cakep. Sepertinya Owner sate Djono terinspirasi dengan menu simpel kayak di food court Eat n Eat, yang menggunkan sticker ditempel di acrylic.
Untuk warna BIRU yang menjadi khas warna dari @satedjonojogya ini. Jadi biru deh semua.. Warna jati diri dari Sate Djono yang sudah dikenal para pelanggannya. Sate,soto,sop,tongseng menjadi menu andalan sate Djono ini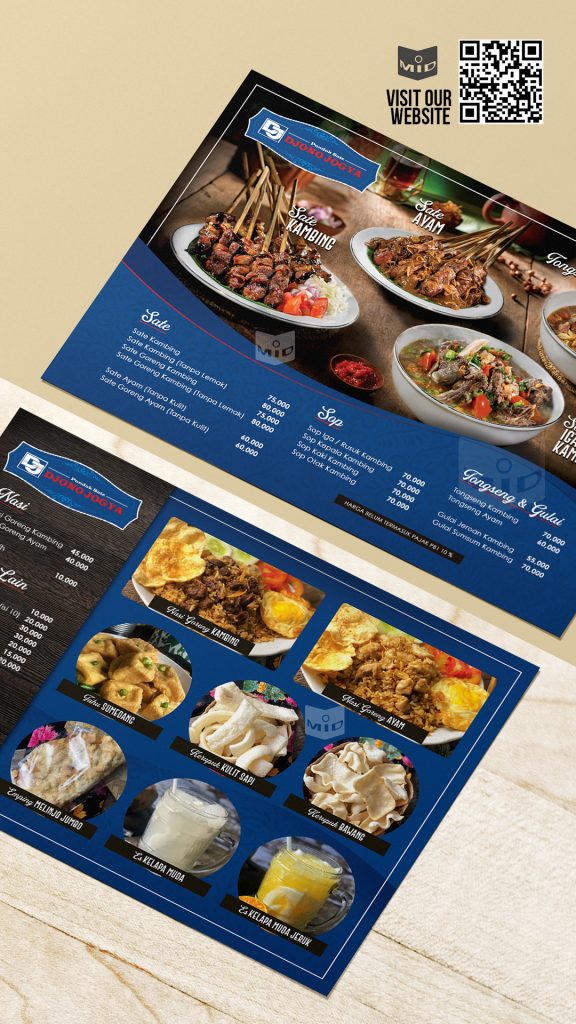 Simple Menu Design for Simple menu

When you have only few menu lets make a simple design, less complicated and sure easy to use and to de point.